TH320: Intercultural Theatre Practices
2017/18
Assessment:

Term 1 - Essay (3000 words) – 30%

Term 3 - Research presentation – 50% (exam), Critique (2000 words) - 20%

Aim
This module sets out to look at the implications of contemporary intercultural performance practice in the context of globalisation in terms of form, focus, ideological and ethical implications.

The learning outcomes of the module

On successful completion of the module students should be able to:

- demonstrate a critical analysis of cultural differences and to examine the processes of their mediation through the various cultures;
- articulate an understanding of the concepts of (1) cultural in relation to identity and aesthetics, (2) the difference between inter- and multiculturalism, and (3) the impact of cultural imperialism and globalisation in relation to theatre production
- analyse how theatre as a form can both reflect and challenge ideas of cultural representation and expression
- engage in research-led investigation of these ideas in both primary and secondary material and communicate their findings both orally and in writing.

We will explore the course through:

• focussed reading of primary and secondary material for each tutorial session
• group discussion and presentation, including visual material and textual analysis
• research in small groups for presentation in class
• some practical class work
• Two written assessments (essay & critique) over the two semesters and an examination in the form of a research presentation.

Questions we will explore in seminars will include

· What is culture, and how is it constructed? (This will include exploring the construction of cultural hegemony, a collective ideology and aesthetics). Here we will specifically be looking at Patrice Pavis's introduction to the Intercultural Performance Reader, looking at the various approaches to culture and exploring the implications of these approaches, particularly in relation to globalisation.

· We then turn to looking at the implications of such construction of culture for the way we represent ourselves as a group – either as an essentialist discourse (exclusively) or as a constructivist discourse (inclusively). This notion of representation includes the negotiation of identity – both personal and collective. This, in turn, leads us to ask how a multi-cultural context, as the world has become in the global context, affects the expression of this complex identity in performance?

· If we are working across cultures, languages and contexts, how do the issues of translation, appropriation, and representation affect intercultural performance practice?

· What is the relationship between the postcolonial and intercultural in the context of globalisation and media?

These ideas will be explored against actual examples of interactions between Asia, Africa and Europe in twentieth century film and theatre.

Prescribed texts (recommend buying)

4 items

Video material and readings will be available to exemplify much of this material.

Other key references

6 items

Video material and readings will be available to exemplify much of this material.

Autumn Term: Theatre and interculturalism

54 items

Week 1: Defining key questions, concepts

4 items

Consider what constitutes culture and tradition? How do these ideas relate to peoples' construction and representation of their identities: personal, communal, national, international?

Bring
Personal objects that link to who you are.

Week 2: Intercultural practices involving specific embodied forms: 1st wave

12 items

Review critiques of interculturalism discussed in year 1, specifically with reference to Peter Brook's Mahabharata and Ariane Mnouchkine's Adaptations of Asian Shakespeares, Tambours sur le Digne and and Le Dernier Caravanserail (Odyssées).

Discussions on Brook: (from Pavis, Patrice, The Intercultural Performance Reader)

6 items

Discussions on Mnouchkine's adaptations of Shakespeare using Asian theatre forms

3 items

Mnouchkine's more recent work

2 items

La dernier caravansérail: Odyssées - Ariane Mnouchkine, Jean-Jacques Lemêtre, Théâtre du Soleil, ARTE France 2006 (videorecording)2240025433,9782240025432

Book recommended Later films.

Tambours sur la digue - Ariane Mnouchkine, Jean-Jacques Lemêtre, François Duplat, Nicolas Sotnikoff 2002

Audio-visual document recommended Stage productions.

Week 3: How Interculturalism Performs the Self as an Other

5 items

Interculturalism: exploring critical issues - Diane Powell, Fiona Sze 2004

Book essential Please read: Fiona Siang Yun Sze, "How interculturalism Performs: Performativity, performability and the theatricality of interculturalism", pp. 127-133.

The Wadsworth anthology of drama - William B. Worthen 20071413029183,9781413017670

Book essential Please read: Hwang's M. Butterfly. There are multiple copies in the library.

Week 4: Performing Food (In)Authenticities

3 items

(Carmen Wong)

Week 5: Interculturalism in the postcolonial context: India

4 items

Week 7: Contemporary Adaptations: negotiating intercultural performance through dance

8 items

This week in IPP we are going to look at two Sadlers Welles' collaborations, as examples of contemporary intercultural performance:

1. Bengali-British dancer, Akram Khan, whose work is described as described as 'a mix of North Indian classical dance, Kathak, and contemporary dance', we will specifically look at his piece zero degrees,

We will focus particularly on his collaborative piece Zero Degrees, where Khan worked with Sidi Larbi Cherkaoui, Antony Gormley & Nitin Sawhney.

Webpage recommended The 'zulu ballet', a collaboration between Ladysmith Black Mambazo and dancers from the Royal Ballet and Rambert dance.

Week 8: Post-war Japan - Takarazuka and the 1950s American musical

6 items

Rose of Versailles - Ai Areba Koso 2001

Audio-visual document recommended Minoru Kou as Oscar, and Kouju Tatsuki as André, in the hoshigumi's Rose of Versailles from 2001

[For further interest seeGoth Lolita and Harajuku fashion]

Week 9: Australian aboriginal identity and music

8 items

Webpage recommended Compare play to film, Jan 2010, official trailer.

Week 10: Co-motion: Culture, Community and Disability

3 items

(Jessi Parrott)

What do we mean by intercultural performance practice? Whilst the foremost examples of this can be found in regard to race (which I will of course be addressing, alongside an acknowledgement of my white privilege) another way of conceptualising culture expands it to encompass ideas of 'identity' more widely. For instance, both the LGBT+ and disability rights movements have at their core a sense of 'queer' culture and 'disability' culture, which emphasises the importance of celebrating these aspects of our society. Culture may also of course refer to 'the arts', and 'cultural enrichment' is one of the buzzwords of our time, even against a backdrop of austerity. Interestingly, these two expanded definitions of culture, the arts and disability, still only meet on rare occasions – and usually within very specific environments, even in 2018. This is despite Bree Hadley's observation that, '[f]or people with disabilities, daily interactions in social situations, spaces and places can feel like a series of performances in which [our] idiosyncrasies are, whether [we] like it or not, on show' (2014, 1).

This seminar will open up a discussion about the idea of a disability culture in mainstream performance. We will explore Oliver's 'medical' and 'social' models of disability (1990) and Mitchell and Snyder's 'cultural' model (2000), alongside Mounsey's idea of 'VariAbility' (2014) to discover how these different (Western) theories might impact on or complicate the presence or absence of disability-related stories in performance practices across a variety of cultural contexts, with a particular focus on Britain and South Africa. We will also investigate the #DisabilitySoWhite critical movement at the intersection of disability and race.

Spring Term: questions of globalisation in relation to new spaces and modes of cultural representation

36 items

We will address questions of globalisation in relation to new spaces and modes of cultural representation, and the ways in which these have both facilitated and problematised our negotiations of race and histories of colonialism in last decade of 20th and beginning of 21st centuries.

Week 1 - Beyond the postcolonial?

4 items

Interculturalism in the context of the global/ cosmopolitan.

Postcolonial plays: an anthology - Helen Gilbert 20010415164486,0415164494

Book recommended Please read: Post-race, Geopolitical division and identity construction - Guillermo Verdecchia: Fronteras Americanas, pp. 419-442.

Discuss essays, possible areas/ groups for research presentations (exam).

Come with ideas, areas or questions of interest, and be ready to outline these in class.

Week 2 – Intercultural listening

3 items

(Luana Tavarno-Garcia)

Please bring your favourite piece of music on phone that you can share.

Week 3: Workshop on Theatre and Meditation. Visiting fellow – Dr. Fabiola Camuti (University of Amsterdam.)

3 items

This workshop will consider the interaction and contamination between theatrical and meditative practices and their application within the development of the actor's training in 20th century theatre reform.

Fabiola Camuti (2016) Breathing, Concentration, Consciousness: Recent Perspectives on Stanislavsky and Yoga. BIBLIOTECA TEATRALE, 119-120 (Nov-Dec), 201-220.

Week 4: Research Projects

1 item

Consider criteria for assessment as a group. Then discuss ideas with YH group by group.

Week 5: Aesthetics and revisioning of ethnographic gaze: Intercultural renegotiation of past: Contemporary Human zoos in Europe/ Africa

7 items

Slum/ ethnic tourism

Contemporary human exhibitions

The conception and reception to Brett Bailey's Exhibit B, in Europe/ UK.

What issues do these examples highlight for theatre/ cultural practices?

Secondary material:

2 items

Week 7: Aesthetics continues: non-naturalistic representation

6 items

Audio-visual document essential Watch this clip before class. The full show will be screened in class.

Secondary reading

3 items

Week 8: Physical theatre: Engaging the disappeared

5 items

Secondary material:

2 items

Week 9: Disney and interculturalism

4 items

In preparation think about your own experiences with Disney.

Think about what constitutes a stereotype, how and why stereotypes work in society.

Finalising research presentations.
All rights reserved ©
Profile Required
Reading intentions and notes are stored against your user profile. Please create a profile to use this feature.
My notes
You must be logged in to add a note
What are item notes?
You can use item notes to make personal notes on any of your reading items. Notes are private to you and will not be shown to other users.
You can review your item notes from the list, the item page or from your profile page.
---
How do I create an item note?
To make notes, first you must be logged in. Once logged in, simply click Add note? next to the list item you wish to make notes on. You can also make notes at the bottom of every item's detail page.
Your note will be saved automatically as you type.
Have you read this?
You must be logged in to set a reading intention
What are reading intentions?
Setting up reading intentions help you organise your course reading. It makes it easy to scan through your lists and keep track of progress. Here's an example of what they look like: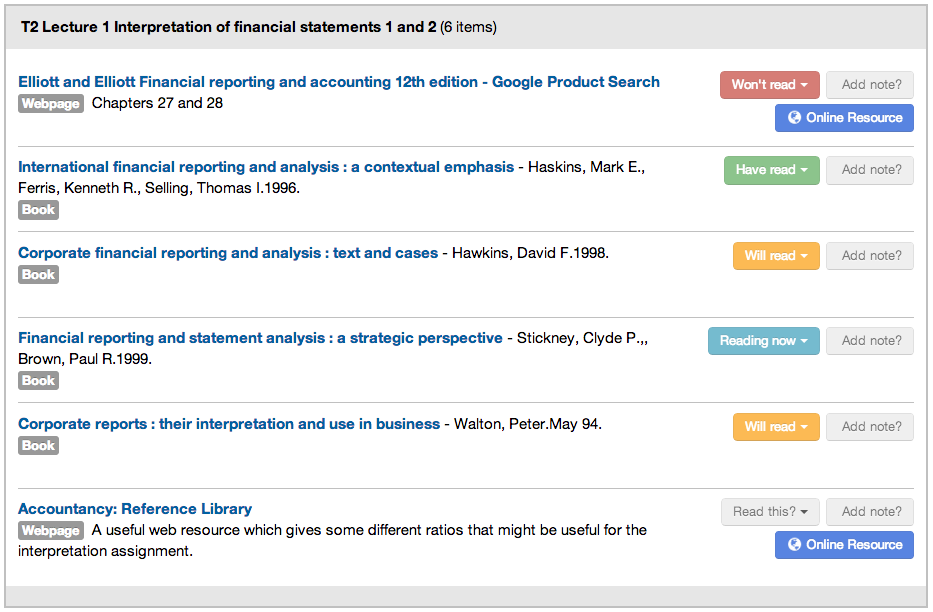 Your reading intentions are also stored in your profile for future reference.
---
How do I set a reading intention
To set a reading intention, first you must be logged in. Once logged in, click Read this? next to the list item you wish to set a reading intention for.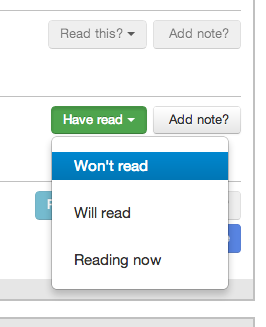 You can also set the reading intention from every item's detail page.