CX271: Rhetorics: from classical Rhetoric to modern communication
2017/18
Rhetoric (the art of speaking well, according to Quintilian) pervades all aspects of ancient life (education, public life, politics, literature...) and informs the ways in which the ancients think and express their ideas and their conceptions of the world around. It is also one of the most enduring areas of ancient knowledge and a key component of literary criticism throughout the ages, a topic that is still taught in modern universities: in an age of intense communication ("spin", even) in politics, trade, science and campaigning more generally, studying the ancient roots of "rhetoric" invites critical reflection on the world we live in and the possibilities to maintain or negotiate freedom despite bad faith, demagogy and the so-called "alternative facts". The syllabus will explore in turn (1) the place of rhetoric in ancient society, (2) the power of rhetoric in ancient literature, (3) rhetoric in question (is rhetoric about truth or deceit?), and finally (4) the non-classical or post-classical takes on ancient rhetoric (semitic rhetoric; modern theories of argumentation, literary criticism, communication).
Selected speeches - Demosthenes, Robin Waterfield, Mervin R. Dilts, Christopher Carey 20140199593779,9780199593774

Book recommended

Antiphon & Lysias - Michael Edwards, Stephen Usher, Antiphon, Lysias 20050856682470,9780856682476

Book recommended
All rights reserved ©
Profile Required
Reading intentions and notes are stored against your user profile. Please create a profile to use this feature.
My notes
You must be logged in to add a note
What are item notes?
You can use item notes to make personal notes on any of your reading items. Notes are private to you and will not be shown to other users.
You can review your item notes from the list, the item page or from your profile page.
---
How do I create an item note?
To make notes, first you must be logged in. Once logged in, simply click Add note? next to the list item you wish to make notes on. You can also make notes at the bottom of every item's detail page.
Your note will be saved automatically as you type.
Have you read this?
You must be logged in to set a reading intention
What are reading intentions?
Setting up reading intentions help you organise your course reading. It makes it easy to scan through your lists and keep track of progress. Here's an example of what they look like: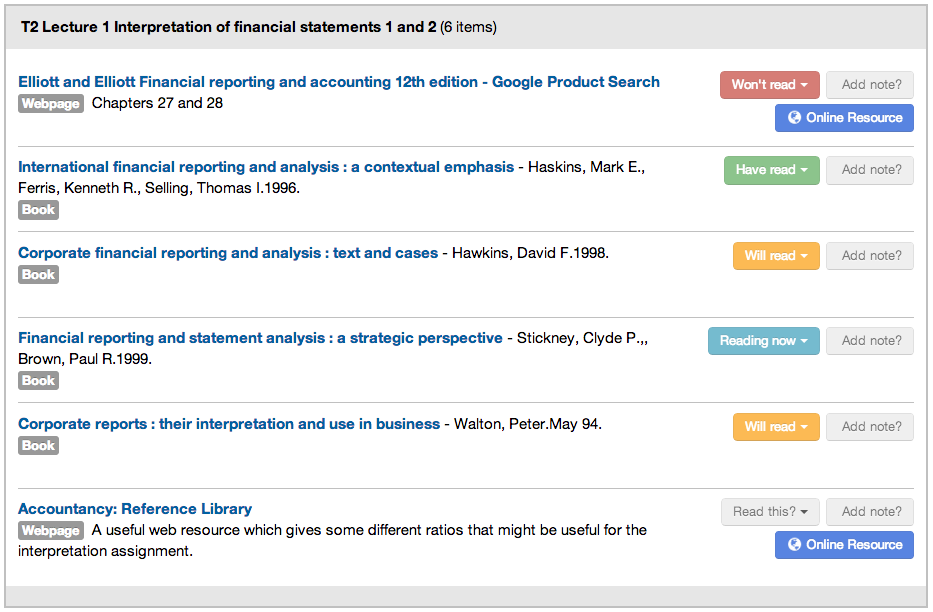 Your reading intentions are also stored in your profile for future reference.
---
How do I set a reading intention
To set a reading intention, first you must be logged in. Once logged in, click Read this? next to the list item you wish to set a reading intention for.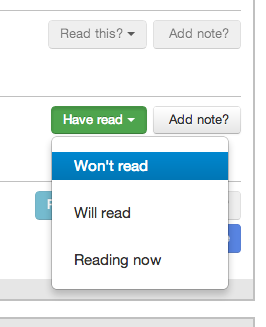 You can also set the reading intention from every item's detail page.